Apartments for rent in the heart of Caorle
The holiday houses in the historic center of Caorle are the ideal solution for those seeking to enjoy the venetian atmosphere. Narrow streets that open onto large squares and small squares, increase the charm of the town in every period of the year.
The residence and holiday apartments located in the heart of Caorle may be two-roomed, Three roomed or quadrilocal. They are often located in restored buildings or in condominiums close to the center of recent construction.
Below we offer the best apartments deals in Caorle close to the historical center.
Contact the structure and book your stay at the best price.
The best deals for all pockets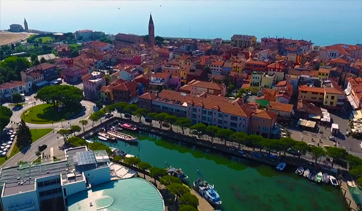 Apartments, residence, terraced houses, houses for rent by individuals, represent the ideal solution for families with children, groups or for those who want to book their holiday in Caorle for long periods taking advantage of the many last minute offers.
Some of the apartments for rent in the center of Caorle are close to the channel of the clock and the marina, toward the west and the east of the city. Others holiday dwellings are with sea view and close to the beach, two steps away from the promenade of Alive Cliffs, famous for its cliffs carved by hand.
This historic village on the sea welcomes thousands of tourists in every period of the year. The walk in the pedestrian area is rich of shops made in italy for shopping lovers, but it is also rich of art and history.
You have to visit the Cathedral and the bell tower of Caorle, symbol of the city, the Church of Madonna dell'Angelo, Alive Cliffs, and the museums located in piazzetta del Vescovado.
After a dip in the sea, take advantage of the holidays to enjoy the works of art that this locality encloses in every corner.
If you are looking for a holiday house with convenient services, there are many apartments in Caorle near the historical center, the harbor and the marina. They are comfortable, well furnished and fully equipped, and they can be two-roomed, Three roomed, quadrilocal, with private garden or balcony/terrace.
The apartment and residence with swimming pool offers in Caorle are in expiration: Check the availability and don't you lose these unmissable low cost and last minute promotions.