Porto Santa Margherita of Caorle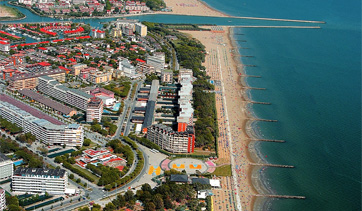 From the mouth of the river Livenza, rises a seaside resort near Caorle, Porto Santa Margherita.
It Is a fraction which was born initially to accommodate the nautical tourism of the Adriatic Sea. One of the points of attraction is the big dock with 450 berths in water and 80 berths on the ground.
Porto Santa Margherita in fact is known above all for the nautical center rich of services, such as shops for the naval world with the sale of jet ski, dinghy boat accessories of every kind, tender and outboard motors. Among the various departures and arrivals at the port, you can take the opportunity to dine in one of the many restaurants with the best dishes of fresh fish, enjoying also the culinary tradition of the territory.
Other commercial areas are in the center of this seaside resort between tracks of the new pedestrian area. It is possible to book your holidays in Porto Santa Margherita near Caorle taking advantage of the many hotels, tourist villages, villas, holiday houses and apartments to rent near the sea offers, immersed in a green pine forest that characterizes the entire Caorle's coastline.
The beach of fine golden sand is constituted by bathing establishments equipped with comfortable amenities ensuring a peaceful and relaxing holiday.
There are provided seats beach with sun umbrella and deck-chairs, showers and toilets, clubs, service center, play areas for children with services of animation, beach volleyball and bowls. In addition, the promenade connects the whole coast croossing Lido Altanea and Duna Verde until you get to Caorle. It is recommended a nice walk by the sea with the first lights of the dawn, when the air is fresh.
To facilitate connection with the chief town, there is a ferry for the passage of cars and pedestrians in Caorle, arriving directly to the Riviera di Ponente.
Look at the availability in hotels and apartments in Porto Santa Margherita. Contact the receptive structures to receive information and book your holidays in Caorle.