Special holiday houses offers in Porto Santa Margherita
Great apartment and residence offers in Porto Santa Margherita of Caorle to live the holiday of your dreams at the Seaside. Medium, large, quadrilocal apartments for rent, townhouses and residence with swimming pool are available.
Take advantage of special offers for families with children and book the holiday at this seaside resort near Caorle.
Two steps away from Caorle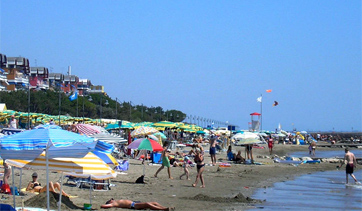 Caorle Porto Santa Margherita is a fraction that is located near the main town, easily reachable by bike and car, thanks also to the ferry service that brings you to the mouth of the river Livenza.
The Darsena with more than 450 moorings is a popular destination to admire the whole coast and the Italian coast for those who wish to rent a boat or to buy one.
Apartments for rent are the ideal solution for whom is searching for comfort and well-being in a place immersed in the greenery and rich of first necessity services. The holiday houses in Porto Santa Margherita differ on the magnitude and the distance from the sea. In fact residence with swimming pool facing the sea or close to the beach, rental apartments with balcony and terraced houses with private garden are available, and the beach is easily reachable on foot or by bicycle.
In most economical apartments for the summer offers are including various services such as the use of the swimming pool, private parking, air conditioning, satellite tv and the use of crockery. Each accommodation is very well furnished, ensuring a comfortable and relaxing stay.
Contact the accommodation that meets your needs and book your holiday in Caorle - Porto Santa Margherita taking advantage of special apartment to the sea last minute offers.