Hotels in the historical center of Caorle
Are you a lover of art and do you want to book a hotel in Caorle close to the historical center? Last Minute Caorle offers the best cheap hotels near the pedestrian area full of shops, restaurants, bars, ice-cream parlors and street food with fried fish on a stick.
This beloved seaside resort is especially known for its historic center and the "Alive Cliffs" that joins the Spiaggia di Ponente to the Spiaggia di Levante.
You can book in 3, 4 stars hotels very close to the central square and close to the sea. Take advantage of last minute offers in hotels and book your holiday in Caorle.
The village on the sea: a marvel to discover
Hotels in Caorle near the historical center, guarantee a dreamlike stay for those who love the sea, fun, art and history. Mostly of the hotels are located to the east and to the west of the pedestrian area, in a strategic position.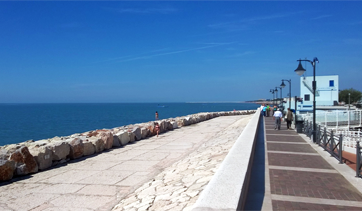 Near to those hotels you find the historic center and you can walk among the shopping streets, without having to move the machine or the bicycle.
Some hotels in front of the sea with allowed dogs overlook the "Scogliera Viva", the most beautiful pedestrian street characterized by rocks sculpted by hand. There are 3- 4 stars hotels with swimming pool, restaurant, large terrace overlooking the sea, private parking and private beach place reserved with beach umbrella and sun loungers.
Other hotels in historical center of Caorle are located in a quiet and full of services environment. The pedestrian streets are similar to the Venetian "calli" and guide the tourists to discover the town rich of shops Made in Italy, ice cream parlors and restaurants of fresh fish, until you arrive to the beach promenade with the church of the Madonna dell'Angelo, from which you can admire the beautiful sunsets over the sea.
Don't miss these incredible all inclusive economic hotel offer in Caorle. Contact the accommodation and book your holiday by the sea at the best price.