Holiday apartments and houses for rent in the Riviera of Ponente
Apartments for rent in Caorle in Spiaggia di Ponente are located to the west of the historic center of the city.
They start From Piazza Sant'Antonio and continue along viale Margherita until the foce of the river Livenza, from which depart several ferries for Porto Santa Margherita. Holiday homes for rent, apartments facing the sea, residence with swimming pool, terraced houses with private garden and tourist villages economic offers are available.
Contact the receptive structure of Caorle that most satisfies your desires and book your holiday to the seaside at the best price.
A sea of services and offers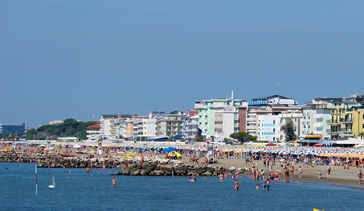 The Riviera of Ponente offers different solutions for those who want to book their holiday in Caorle taking advantage of apartments and holiday houses convenient offers.
Residence with swimming pool near the beach and with private garden, ideal for families with children are available. The apartments for rent may be two-roomed, Three roomed or quadrilocal offering cozy and liveable spaces for all tourists in holiday. The wide choice of accommodation for holidays also depends on the position: apartments facing the sea, close to the beach and to the historic center.
The Spiaggia di Ponente offers all the services of first necessity, such as minimarket, bakeries, restaurants, pizzerias, ice-cream parlors and much more. The seafront that starts from the mouth of the Livenza until to the Alive Cliffs in the heart of the city, is the ideal for long walks at any time of the day.
Last minute apartments and residences offers are always updated with an excellent price-quality relationship, ensuring an unforgettable vacation.
Contact the accommodation for the rent that meets your needs and book your stay in Caorle, the historical town on the sea.