Duna Verde of Caorle: an oasis immersed in the green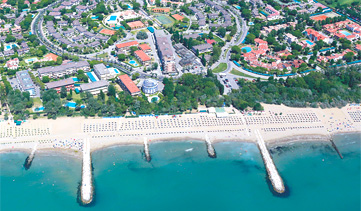 Few kilometers from the city, rises a location immersed in the pinewood, Duna Verde of Caorle.
It is a predominantly tourist residential-, sort between the '60-'70, it ensures tourists a holiday at the sea in a relaxing and comfortable atmosphere. It is often chosen as a holiday resort for its tranquillity and facilities for families with children.
It is especially famous for the large, modern and cozy tourist villages, one of which is equipped with a 9 hole golf course. You can choose between comfortable terraced houses, mobile homes, apartments for rent or adventure in camping on campsites immersed in the green.
The beach of Duna Verde has maintained the natural characteristics of the adriatic coast constituted by original dunes and a thick pinewood, constantly protected by the Regional Company of Forests.
In recent years there have been accommodated the waves of the sea creating a stroll among the rocks from which you can admire the spectacular sunsets and sunrises in the middle of the water breathing clear and fresh air.
The center of Caorle Duna Verde offers first necessity great services, such as supermarkets, souvenirs, pharmacies, restaurants, bars and pizzerias. The pubs on the beach are perfect to sip good fresh drink or a good ice cream during the days at sea.
In the summer, from mid-May to mid-September you can enjoy the Wednesday morning of the weekly market in Duna Verde of about 30 banks at the Piazzale Madoneta.
This small seaside resort is easily connected to the capital, Porto Santa Margherita and Lido Altanea thanks to the urban bus service and the bike path that connects the whole Caorle's coast, protected from the traffic of cars and busses.
Take advantage of the hotels and apartments economic offers in Caorle Duna Verde and treat yourself a holiday at the relaxing and carefree sea.