If you are looking for a relaxing and comfortable holiday, hotels in Lido Altanea are the right choice. It is a recent seaside resort near Caorle, immersed in the green in an atmosphere of relaxation and serenity.
Take advantage of the 4 stars hotel economic offers with swimming pool and near the beach, and book your holiday with the family in Caorle Altanea.
A green oasis full of services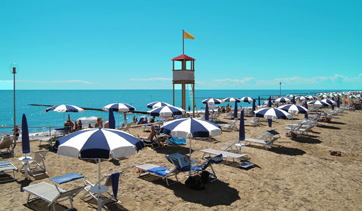 Hotels in Caorle Altanea are located close to the beach and are recommended for families with children. The staff organizes free animation services for children, tournaments and shows, thanks also to the green spaces to play in total safety.
The restaurant in the hotel proposes every day delicious dishes for all tastes, with a special focus on the local tradition, but there are also international plates, paying a particular attentions to vegetarians, vegans and food allergies.
The common space is characterized by a swimming pool for adults with children pool, and games of water surrounded by a large solarium equipped with sun loungers, deckchairs and beach umbrellas; some may also have the whirlpool area to enjoy a moment of relaxation in the open air.
The rooms are well furnished, often with balcony with sea view, and every structure ensures the private parking and beach place reserved.
The 4 stars economic hotel offers in Lido Altanea of Caorle are the perfect solution for those looking for saving and quality for their holiday by the sea. There are many special all inclusive promotions with the breakfast and half board or full board treatments.
Please contact the hotel that satisfies your needs and book your stay in Altanea with Last Minute Caorle.