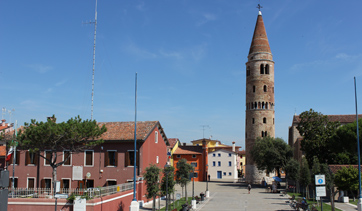 Spring has arrived and the days begin to give us moments of entertainment to spend them carefreely in the open air.
Caorle is a delightful historical town on the sea, known primarily for colorful buildings that remind the nearly Venice.
Easter often coincides with the beginning of spring. The shops and hotels in Caorle open their doors to welcome their first guests who decide to spend Easter and 25th April in Caorle.
It becomes an opportunity to rest and relax from the stressful life and perhaps to program the summer holidays.
In these years, the city has proposed different gastronomic events, art exhibitions, concerts, shows, cultural and sports events offering a vast program for everyone.
This year, between March and April, will be held the Chocolate Fair with tastings, workshops and street artists who will animate the streets of the historic center.
Every occasion becomes a valid reason for a vacation outside by taking advantage of the first Easter spring Festivals or the 25th April long weekend in Caorle.
Hotel, apartments, resindence and special promotions are available in Caorle to enjoy the first week-end at the sea in full rest and relaxation.
Scogliera Viva is always a popular destination for families with children accompanied by four-legged friends because you walk near the sea and breathe clean and fresh air. Moreover, thanks to the rocks sculpted, you can admire the beautiful works of art to open sky.
The restaurants of the coast also offer special dishes based on fish and many other typical products of the tradition.
Do not miss these special economic hotels and apartment offers between March and April.
Treat yourself a last minute holiday in Caorle.