Hotels in Spiaggia di Ponente (West Beach)
Do you want to book a holiday in Caorle in a hotel near the sea? Last Minute Caorle offers the best economical offers in hotels in Caorle Spiaggia di Ponente. It is a rich of services area of the city: Restaurants, shops, bars, clubs and the beautiful beach with reserved places.
Hotels in Caorle are different on the category and location. Two stars, three stars and four stars waterfront or close to the beach hotels are available.
Please contact the hotel structure that meets your needs and book your all inclusive package holidays.
A coast rich of last minute offers
From piazza Sant'Antonio, begins the long Viale Santa Margherita which traverses the whole Riviera di Ponente up to arrive at the mouth of the river Livenza.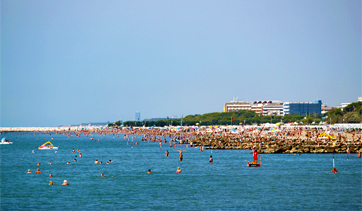 There are many three stars hotels overlooking the sea and close to the historical center of Caorle, easily reachable on foot that guarantee to everyone a comfortable and cheap stay. Some hotels with swimming pool are ideal to live unforgettable moments with your loved ones, or to give to yourself the occasion to stay in relaxation and tranquillity.
2, 3 and 4 stars hotels propose half board or full board with breakfast included and guarantee the best services included in the price:
place reserved beach with sun lounger chairs and an umbrella;
wi-fi;
restaurant and bar;
parking;
swimming pool for adults and children;
private garden or terrace.
Other all inclusive services can be found on the tabs of each hotel in Caorle di Ponente to offer you more information on the reservation of your stay by the sea.
Contact the facility that meets your needs: last minute hotel offers in Caorle are set to expire!