A coast rich of opportunities!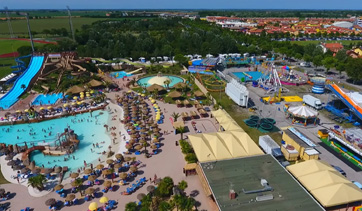 The historical town on the sea offers its tourists many activities to live a dream holiday at the Seaside: excursions in the lagoon, sporting activities, museums, playgrounds and many other exhibitions and cultural and gastronomic events for all seasons.
One of the main attractions of Caorle is the waterpark Aquafollie. It is located in a strategic point of the city close to the multipurpose center, and the historic center can be easily reached by foot. The entrance of the waterpark is in front of the large parking lot, which welcomes the weekly market on Saturday morning, and it is located two steps from the bus station.
The Aquafollie of Caorle is a perfect destination for young people but also for families with small children, where adults can relax on the pool while the children have fun with the many activities designed for them.
In the map of the Aquatic Park you can identify the different thematic areas to better organize your day between the slides and pools for all ages.
In the summer, near the waterpark, there is a great Luna Park where you can spend the summer evenings with friends and family. There are rides for the little ones and those hectic for the braves. Thanks to the several pubs, you can take advantage enjoying some sweet delicacy accompanied by a fresh drink.
The large multifunctional system Palaexpomar, which is located at the gates of the city, welcomes different exhibitions of every kind: fashion shows, shows, dancing, trade fairs of products but also many gatherings and meeting sports. The large space available of about 5000 mq manages to find many solutions to accommodate and ensure the best use of their services.
This seaside Adriatic Sea offers guests beautiful excursions in the lagoon of Caorle discovering the casoni and the hinterland.
Are also organized guided visits to the Duomo and Campanile of Caorle during the summer months, while the visit of the Church of Madonna dell'Angelo takes place on Saturday in the months of July and August.
In the case of bad weather you can enjoy visiting the ecclesial and civic museums that are located in the oldest area in the heart of the city. When you book your stay in Caorle, you need to go to at least once at the hall fish market, located at the gate of the city and close to the fishing harbor.
Take advantage of the hotels and apartments economic offers in Caorle and book your holiday at the sea: the fun is guaranteed!