The Spiaggia di Ponente: a safe harbor where to book in Caorle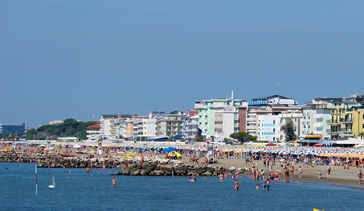 The Ponente Riviera of Caorle comprises the stretch of coastline between the mouth of the river Livenza and the beginning of the famous walk on the cliff, close to the historical center.
It is a stretch of beach equipped for families with beach places, play areas for children, clubs and all the comforts to spend a quiet and relaxing vacation to the sea.
The promenade is free of architectural barriers and accompanies the tourists to discover the coastline up to arrive at the mouth of the river where there is a ferry for the transport of cars, motorcycles and people in Porto Santa Margherita.
The Spiaggia of Ponente is rich of hotels and apartments for rent situated in a strategic position, and there are a lot of services such as restaurants, pizzerias, bar, supermarket and shops.
In an area surrounded by greenery is present a large municipal camping characterized by sand dunes and pine woods, the typical vegetation of the adriatic coast.
In Via Venier we find "Gli impianti sportivi Villaggio dell'Orologio", a sports center with 4 tennis courts open to the public from April to October. During the summer are organized tournaments, internships, individual lessons in a relaxing and friendly atmosphere.
In the surroundings of the dam with a stroll among the rocks sculpted, we find the disco club on the beach Don Pablo, known for its many beach parties organized during summer evenings.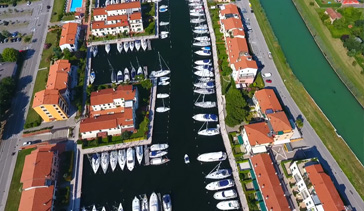 One of the most popular point of the Riviera di Ponente is the "Darsena dell'Orologio di Caorle", a marina that is located at the gates of the city.
It is a safe harbor, infact it is equipped with outer breakwaters that allow the transit even on days with adverse weather conditions.
Do not miss the best last minute deals in hotels and apartments for rent in Caorle Spiaggia di Ponente.
Live the vacation of your dreams: book in Caorle!