Plan your vacation in Caorle
Don't you know where to spend your holiday this year? We advise you to book your holiday in Caorle.
Every year thousands of Italian and foreign tourists choose this seaside resort for the equipped beach, clean sea and the historic center full of commercial activities, and for the many attractions that are present along all the entire coastline.
Special offers are available in Caorle in different periods of the year:
Holiday Packages Caorle in spring for the months of: March, April and May;
Lastminute offers in Caorle in summer: june, july, august and september;
Winter promotions for Christmas and for the New Year.
During the major holidays and long weekends, good economic offers and last minute holiday packages are available.
Check the availability for the apartments and residences, houses for rent and hotels and book your holiday in Caorle.
The best opportunities for the whole family... and not only!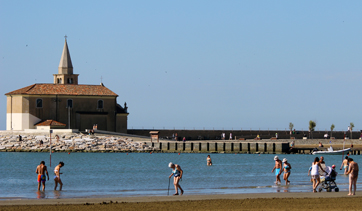 This seaside resort in the province of Venice is a perfect destination for families with children because both the hotels in Caorle and apartments for rent have the best facilities with an excellent price-quality ratio.
The spiaggia di Ponente and spiaggia di Levante are equipped to accommodate all tourists thanks to the place reserved beach, comprised of couch, deckchairs and beach umbrella, and they provide different play areas and entertainment activities for children and adults.
The large passarelle arranged along the whole coast are indicated for pushchairs or prams for disabled people, so as to easily reach your beach umbrella.
There are also sections of free beach to assure even the day at sea for commuters and residents of neighboring localities.
If you have a pet, Caorle provides to you a stretch of beach reserved for dogs together to his masters: BauBauBeach.
You can plan your Theme holiday thanks to the wide choice of pet friendly hotels and hotels for families with services for overcoming architectural barriers. Also the holiday houses for rent are designed to guarantee a comfortable and relaxing stay for all.
Check the availability in the hotel, holiday houses and residences of Caorle, and book your stay by the sea.