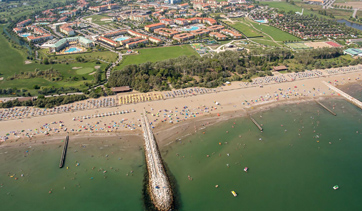 Lido Altanea rises between Porto Santa Margherita and Duna Verde, just 5 km from Caorle and is a new tourist residencial area. It is characterized by wide green areas where you can see low buildings as holiday houses for rent, residence with swimming pool, resorts and hotels near the beach.
Caorle Altanea is rich of first need services thanks to the presence of the commercial area "La Quercia".
It is a very quiet area, close to the sea and it is ideal for families with children.
The traffic is limited only to the residents because it is not crossed by high density road networks.
For the residence and the villages far from the sandy shore is available a nice complimentary shuttle service to the beach.
The train connects all the most important points of the coast offering a secure service for children and their parents.
For all lovers of sport in the open air, there is a sports center, the Sporting Club Altanea, with several tennis courts, beach volley, football and many other sports.
For evening entertainment, you can take advantage of an open area close to the beach, Happy Arena, with more than 1000 seats to comfortably watch shows, animation, musicals and many other events.
Also during the day are organized games and animation for children.
The beach of Altanea Caorle is managed by several bathing establishments and offer excellent services to spend in serenity your day at the sea. Beach spaces with umbrellas, sun lounger, deckchairs, toilets with showers are available, and there are several kiosks and pubs to have a snack or a cool drink.
During the summer evenings are organized beach parties from the aperitif until late at night, with music and dancing on the sand.
Contact the receptive structure that responds to your ideal hotel or apartments for rent in Altanea.
Take advantage of last minute offers in Lido Altanea and book your vacations to the sea.