Caorle, a city to discover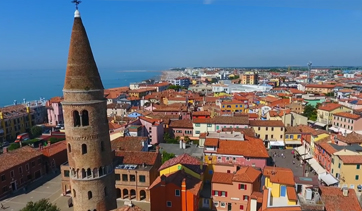 Living your holiday in Caorle means immersing in a magical atmosphere among history, art, culture, fishing and traditions, but it also means fun thanks to the many attractions and long beaches.
This seaside resort, bathed by the Adriatic Sea, is especially known for its
historical center
, characterized by narrow streets and small squares where overlook historic buildings and houses painted by pastel color,
similar to the island of Burano
.
The great pedestrian zone of Caorle is rich of
Made in Italy shops
, ice-cream parlors,
street food
with squid and fried fish, pizzerias,
restaurants with local fresh seafood
, and pubs with excellent drinks and cocktails.
One of the main symbols of the city is the
bell tower of the Cathedral of Santo Stefano
. Cylindrical in shape with a conical tip slightly leaning toward the cathedral, the bell tower of Caorle dates back to the XI century.
During the main events, it is chosen as the headquarters for the
fireworks
in August and in the New Year's Day.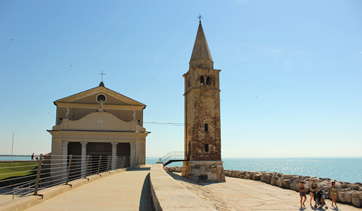 Another symbol is the unmistakable
Santuario della Madonna dell'Angelo
, better known as the Church of the Madonnina.
It Is located at the end of the famous seafront characterised by rocks sculpted by world famous artists during the famous event
Scogliera Viva
(Alive Cliffs).
The small church of Caorle overlooks the sea and is often chosen as a
location for weddings
, and it is one of the most beautiful places where you can watch the sunset over the sea.
It is a city that never goes into hibernation: both in summer and in winter is always populated by tourists and citizens, thanks also to many
events for families and young people
which are organised throughout the year.
You only have to discover where to sleep and to profit from the several cheap hotels, apartments, residence and resorts offers.