Spiaggia di Levante: where the sun rise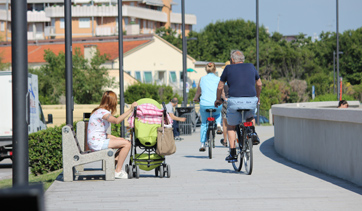 The Riviera di Levante in Caorle is known for its particular arc shape of the gulf from which you can admire the historic church on the sea dedicated to Madonna dell'Angelo.
The long sandy beach is characterised by beach places with umbrellas and sunbeds and stretches of free beach for commuters who choose this place to spend a day at sea.
The Lungomare Trieste, along approximately 2.5 km, guide the tourists to the discovery of the coast, starting from the historical center of Caorle until to the Casoni and Falconera, the lagoon of Caorle. It is a natural area remained uncontaminated and full of plant and animal species bathed by the waters of the Canalon that slowly opens on the Adriatic Sea. Thanks to the cycle paths, you have the possibility to explore the entire coast and Caorle's hinterland.
Near the village of fishermen, for some years it has been arranged a stretch of beach for dogs in Caorle: Bau Bau Beach. The area is located immediately after the compartment 9, at the end of the Lungomare Trieste.
In the Levante area there are many apartments, villas and hotels facing the sea, available on the basis of the location, category and services included in the offers in Caorle.
At the gates of the city stands a wide structure for fairs of sample collection, exhibitions, cultural and sporting events: the Palaexpomar. In the surroundings there is a sport center and the municipal stadium.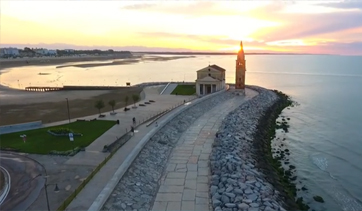 One of the main attractions is undoubtedly the waterpark Aquafollie together at the Luna Park, preferred by young people and families with children to share moments of joy and serenity. A few meters away it is available a wide parking area where the Saturday morning is organized the weekly market. In this stretch of coast, there are many free or for-payment car parks.
Early in the morning it is nice to be able to admire the sunrise from Spiaggia of Levante in Caorle, one of the most magical moments together to the sunset.
Discover the special offers at the best price and book your holiday in Caorle, the historical town on the sea.