The historical town on the Adriatic Sea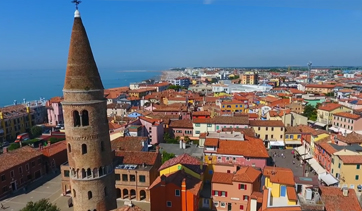 The heart of the seaside town is certainly the historical center of Caorle with small houses' colors that are typical of the Venetian tradition. Historically, this area was crossed by channels and over the years they
have been buried and have been transformed into narrow streets similar to Venice's calli. For this reason it is known as the Venice in miniature.
By navigating the single channel remained, the Varoggio, you arrive near the historical area and then to the fishing harbor where you can find the famous fish market of Caorle, the Mercato Ittico Comunale.
In addition to the color of the houses similar to the houses of the fishermen of Burano, you can be surprised by the particularity of external fireplaces in almost every single building. Once a meeting place for families was around the hearth and for this reason it had to be comfortable and welcoming.
The Symbol of Caorle is the Cathedral of Santo Stefano with its bell tower, the scene of many firework displays both in summer and in the New Year Day. It Is high approximately 50 meters and differs from the other bell tower for the conical tip and the cylindrical shape. In addition of the calling of the believers to the religious functions, the had become an excellent lookout and sighting point.
Another symbol of the city on the Adriatic Sea is the Sanctuary of the Madonna dell'Angelo, protectress of the fishermen, that is located at the end of the walk on the cliff, location of many marriages, known as Scogliera Viva. The particularity of this walk are surely the rocks that over the years have been embellished with spectacular sculptures. The first idea came from the artist from Treviso fond of Caorle, Sergio Longo, who in 1992 sculpted his first work on one of the boulders and chose Neptune, the God of the sea. From that moment he gave life to a veritable gallery in the open sky.
To end a beautiful day at the beach you can enjoy sipping a drink in one of the many pubs and clubs of the historic center along Rio Terrà delle Botteghe, rich of shops, restaurants, pizzerias and ice-cream parlors.
Check the availability in the hotel and apartments and book your holiday in Caorle, the historical city on the sea.