The coast of Caorle is full of events: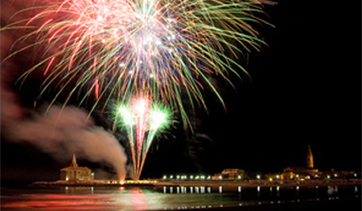 The city of Caorle proposes many events to provide you an unforgettable holiday.
There is a great party for Ferragosto with music, concerts and a beautiful fireworks display on the bell tower of Caorle.
In the period of Christmas and New Year's Day, the historical center fills of the Christmas markets with the sale of handicrafts and gastronomy products.
In every moment of the year, events in Caorle represent fun opportunities for young people and families, and you can take advantage of the range of last minute offers for apartments and hotels:
25th Long Weekend and Easter offers;
1 may long weekend with the first dip in the sea;
2 June for a gate- away weekend;
Ferragosto in Caorle;
Christmas and New Year's Day at the winter sea;
Living Rocks, art on the Sanfront of Caorle.
Let's go all on holiday in Caorle
Sporting events, cultural events, fish fry, become excellent moments to share with people you love.
Last Minute Caorle offers the cheapest last minute offers in hotels, apartments, holiday houses, residence and tourist villages to relax and to enjoy all the best comforts. The prices are discounted and very low and they assure quality services with an optimal relationship quality-price.
The all-inclusive packages are in expiration: don't let them escape and book your holiday in Caorle.