Apartments and residence with swimming pool in Duna Verde
Apartments and residences in Duna Verde are immersed in the greenery and surrounded by parks.
They represent an excellent solution for families with children because it is a place rich of first necessity services and activities for younger guests. Search for the best flat for rent offer in Duna Verde and book your holiday at the sea near Caorle.

A green oasis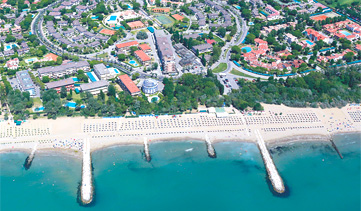 Duna Verde of Caorle is a tourist resort between Lido Altanea and Eraclea Mare populated mostly during the summer season. The beach is characterized by sand dunes delimited by a thick green pine forest, from which it takes the name.
In the whole coast there are several apartments in seasonal hiring in comfortable two-room, three-room, four-room apartments, villas with private garden or balcony, and residence with swimming pool.
If you are looking for comfort and wellbeing during your summer holidays, to rent an apartment to the sea is the perfect solution. There are seafront holiday houses or flats close to the beach, characterized by services with an excellent price-quality relationship, and common spaces such as green areas with swimming pool for adults and children. It is also guaranteed the private parking for accommodation.
Duna Verde is a small peaceful oasis and it is child measured. There are games rooms, parks, ice-cream parlors, pizzerias, restaurants and other shops. It is also possible to reach Caorle by bicycle following the cycling track that flanks the whole coast.
The residence with swimming pool and apartments offers in Duna Verde are expiring. Take advantage of these special discounts and book the holiday at the seaside.