Apartments and residence in Caorle Riviera of Levante.
Are you looking for the best cheap apartments for rent offers? With Last Minute Caorle find many solutions for the vacation of your dreams!
There are a wide range of residence and apartments facing the sea in Levante, near the Lungomare Trieste and the historic center. They represent the ideal solution for those who want to spend their holidays as if you were at home, without the constraints of time.
Check the availability of holiday accommodation in Caorle that meets your needs, and book now your low cost stay to the sea.
A sea of last minute offers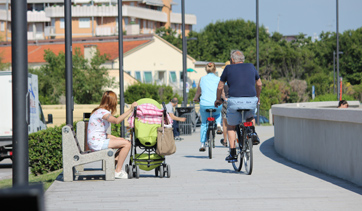 Residence with swimming pool facing the sea, apartments for rent by private individuals, holiday homes, tourist villages and villas offer to tourists a relaxing and convenient permanence.
The summer apartments of Caorle are modern and well furnished, including the necessary comfort to enjoy the holidays, finding perfect solutions for families with children or groups of friends and for all those who wish to spend a holiday along the Adriatic Sea.
The holiday houses rented by private individuals on the Riviera of Levante are located in a strategic position because the historical center and the beach are easily reachable on foot and by bicycle both, and it is rich of services and games for children. Toward the end of the Lungomare Trieste there is a stretch of beach for dogs where they can play in the water and on the sand with their masters.
The apartments and residences offers in Caorle are a valid proposal for families and groups as they are equipped with the most modern accessories with an excellent price-quality relationship. Medium, large, 4 rooms apartments with private garden or a terrace/balcony, with private parking and many other services included in the all inclusive apartments package are available.
Contact the receptive structure that responds to your ideals and book the so much desired sea holiday in Caorle.